Rita Ora for Rimmel Super Shine Nail Polishes in Port-a-loo Blue, Roll in the Grass and Tangerine Tent - £2.99 each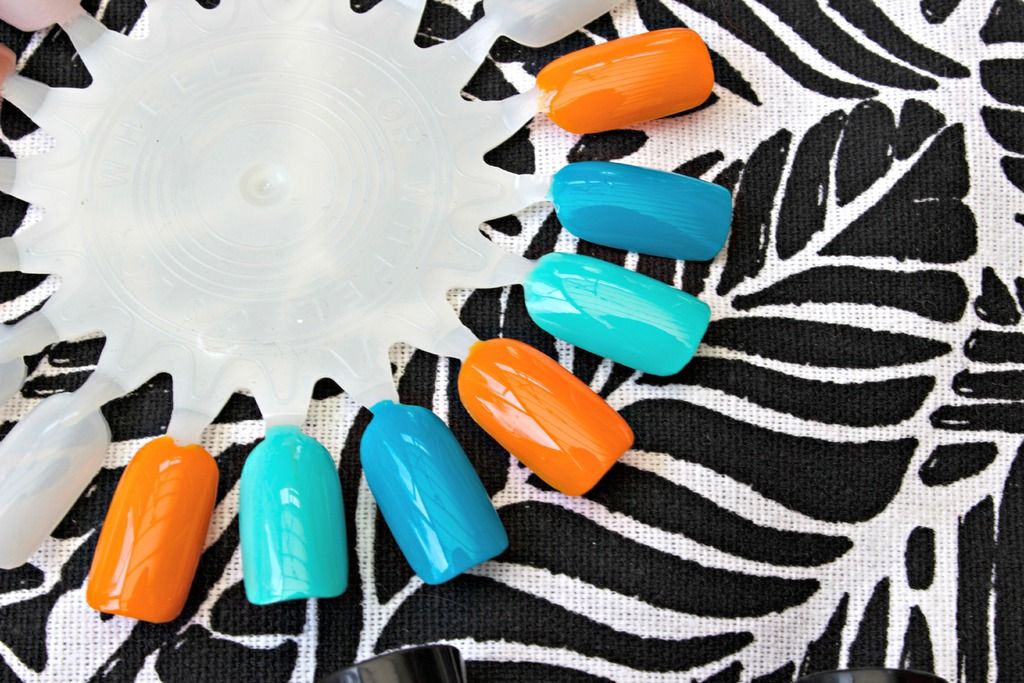 It's been lovely and sunny all weekend (although it's raining as I write this) and those few days of sunshine really boosted my mood and got me into the spring/summer vibe. So much so that I ended up picking up the new range of nail polishes from Rimmel in collaboration with Rita Ora.
The shades are just gorgeous! Brilliantly bright and bold! Perfect when the sun is shining or even if it's not. I picked up Tangerine Tent, which is a really great orange shade, Port-a-loo blue, which is an almost neon blue and Roll in the Grass, which is a dark mint/turquoise shade. I absolutely adore all of the shades and have been wearing them all for a couple of days. They look brilliant together but I was a teeny bit disappointed in Tangerine Tent, which is a little bit thinner than the other polishes so you need more layers when applying it.
The polishes go onto the nail absolutely perfectly though and the brushes are precision maxi-brushes to be exact, and are really thick, almost twisted, which allows you to reach the entire nail in one swoop.
The polish is pretty chip resistance too and there is barely any chipping at all after the few days I've been wearing these shades, so I'm seriously impressed. The finish is super shiny too so it really lives up to its name.
What do you think of the new Rita Ora for Rimmel Super Shine Nail Polishes? Let me know in the comments.