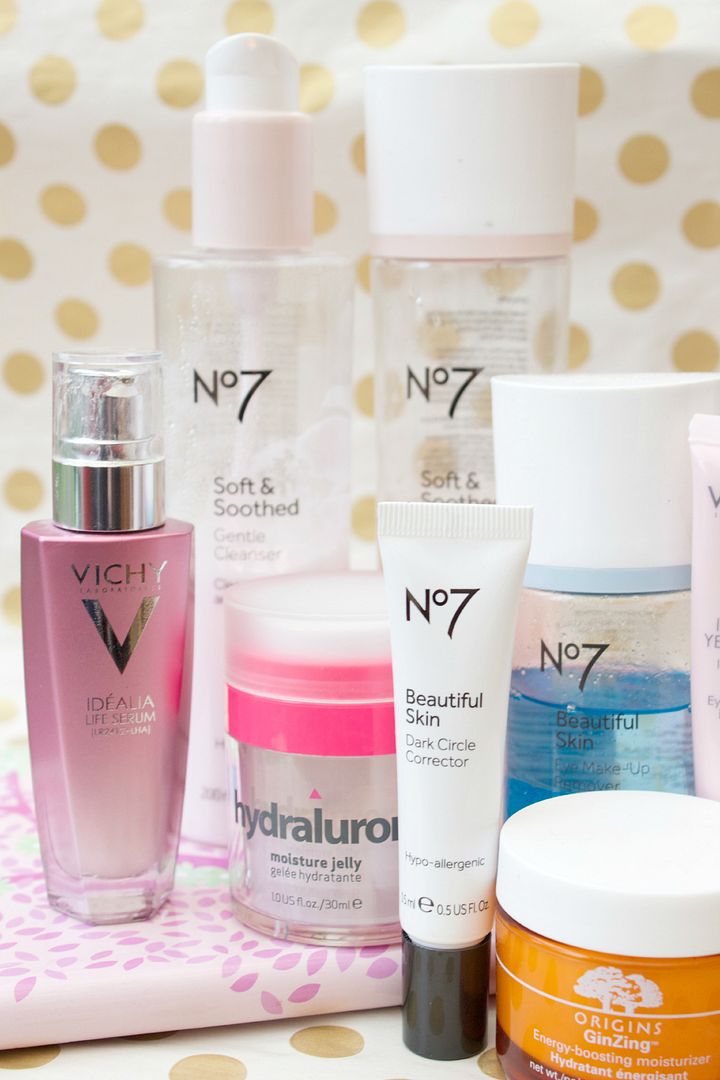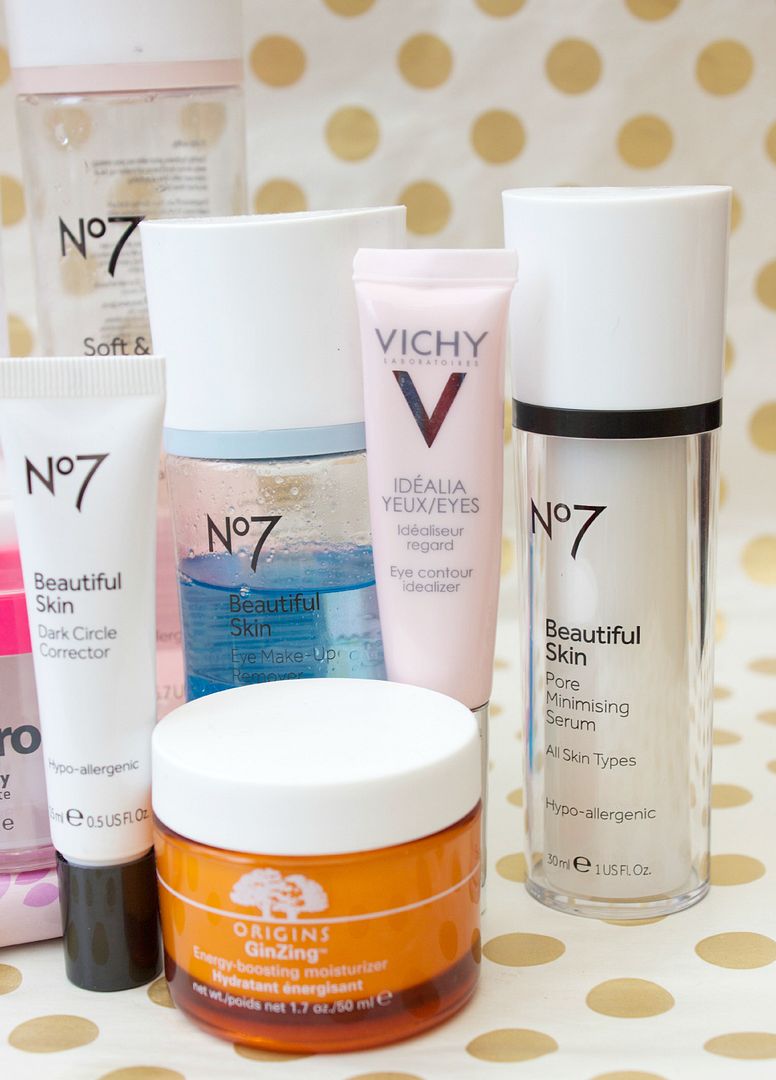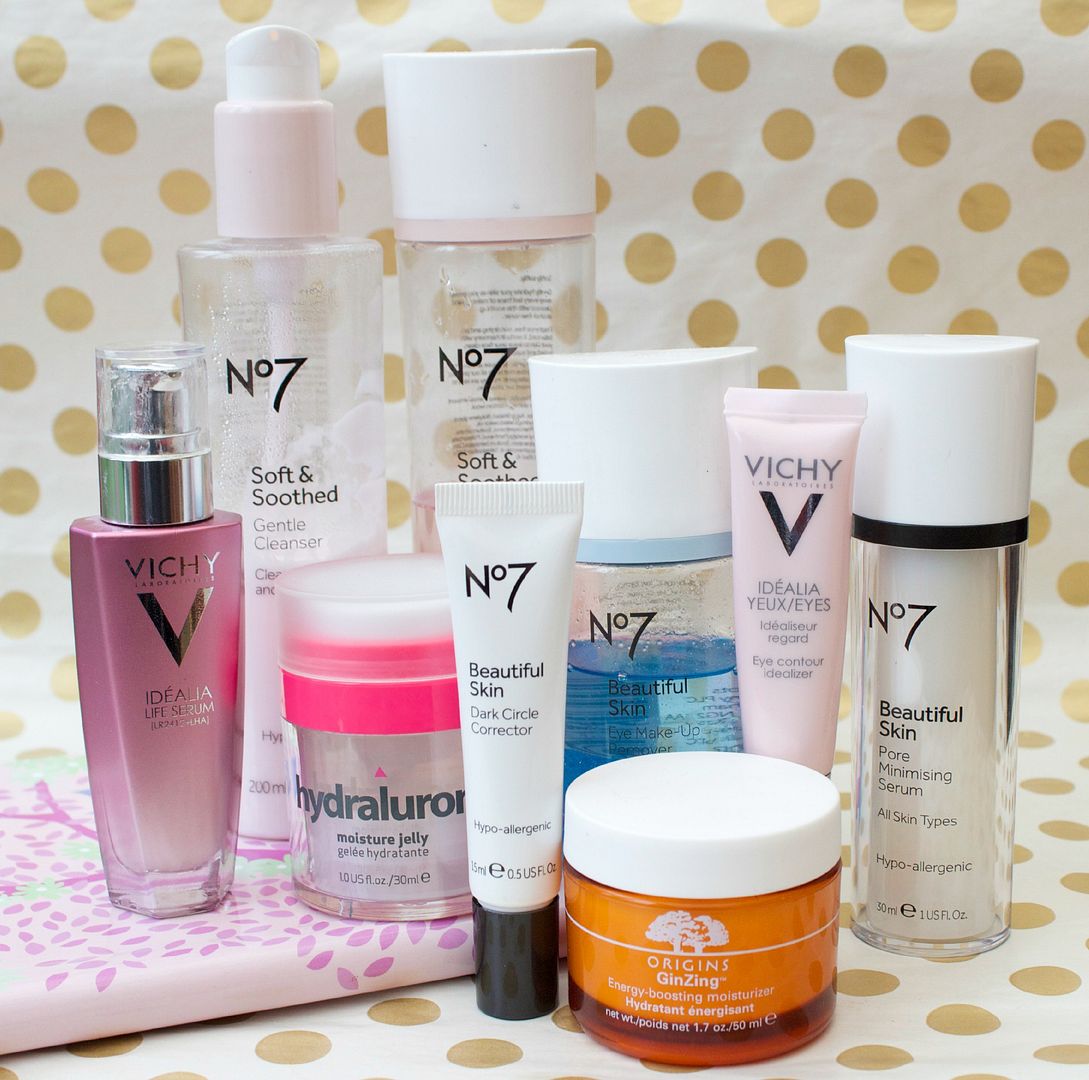 I'm really surprised I have a bit of a morning skincare routine, especially as I'm pretty lazy! I've had this routine for quite some time now and got the idea for this post when I was walking around Boots with my sister, discussing what skincare we use.
No7 Soft & Soothed Gentle Cleanser and Toner
Back in University I had terrible trouble with my skin. It was very red and sensitive and although it still is, I've found the No7 Soft & Soothed Gentle Cleanser and Toner to be extremely gentle, leaving my skin feeling ultra clean and soft in the mornings before I apply any makeup.
No7 Beautiful Skin Eye Makeup Remover
Finding a decent makeup remover for my eye area has been a bit of a job. I find that dual action eye makeup removers like this one seem to be the best type to use. You simply shake them up and pop a bit on a cotton pad and in a few swipes your makeup is gone. Unlike many others this one doesn't leave my eyes feeling sore/stinging after use.
Vichy Idealia Life Serum* and
eye cream*
I have never really used a serum as part of my morning routine until I was sent the Vichy Idealia Life Serum to try out. It's perfect for my sensitive skin and also contains a unique combination of molecules that apparently transform your skin quality if its looking rather dull and fatigued. It's also great for people living in busy cities with lots of pollution as it gives you a great little morning pick-me-up and leaves the skin feeling more refined.
The
Vichy Idealia eye cream
is another of my morning regulars and really helps to boost the under eye area, leaving you looking refreshed and like you've had a good night sleep.
No7 Beautiful Skin Dark Circle Corrector
I've been using this little product for a few weeks now after picking it up on a bit of a whim while in Boots. It has a tri-ball applicator that smooths the product around your eye area, while massaging it at the same time. It refreshes tired eyes but what I like most about this is that the applicator really helps eleviate pressure in my sinuses. I get terrible sinus pain on the sides of my nose and around and underneath my eyes so this really helps.
No7 Beautiful Skin Pore Minimiser
Another No7 product has made the morning routine cut and this times its the No7 Beautiful Skin Pore Minimiser. I have much bigger pores on my nose and chin and I've seen a real difference in them after using this. They have reduced dramatically and while this product did break me out a little bit, I powererd through and am now fully loving it.
Indeed Labs Hydraluron Moisture Jelly
I have to admit this isn't always a regular product in my morning skincare routine, but when my skin is feeling particularly dry, I do like to whip this out before using my normal moisturiser. It really just gives my skin that extra boost it needs in the morning.
Origins Ginzing Energy Boosting Moisturiser
I only introduced this moisturiser back into my routine very recently. I was previously using a standard highstreet one but I felt as if it wasn't really doing enough for me and after reading that orange and citrus scents really help wake you up and put you in a good mood for the rest of the day, I just had to start using it again. I love the scent of this one and it leaves my skin feeling super soft and hydrated after use.
What products are in your morning skincare routine? Let me know in the comments.