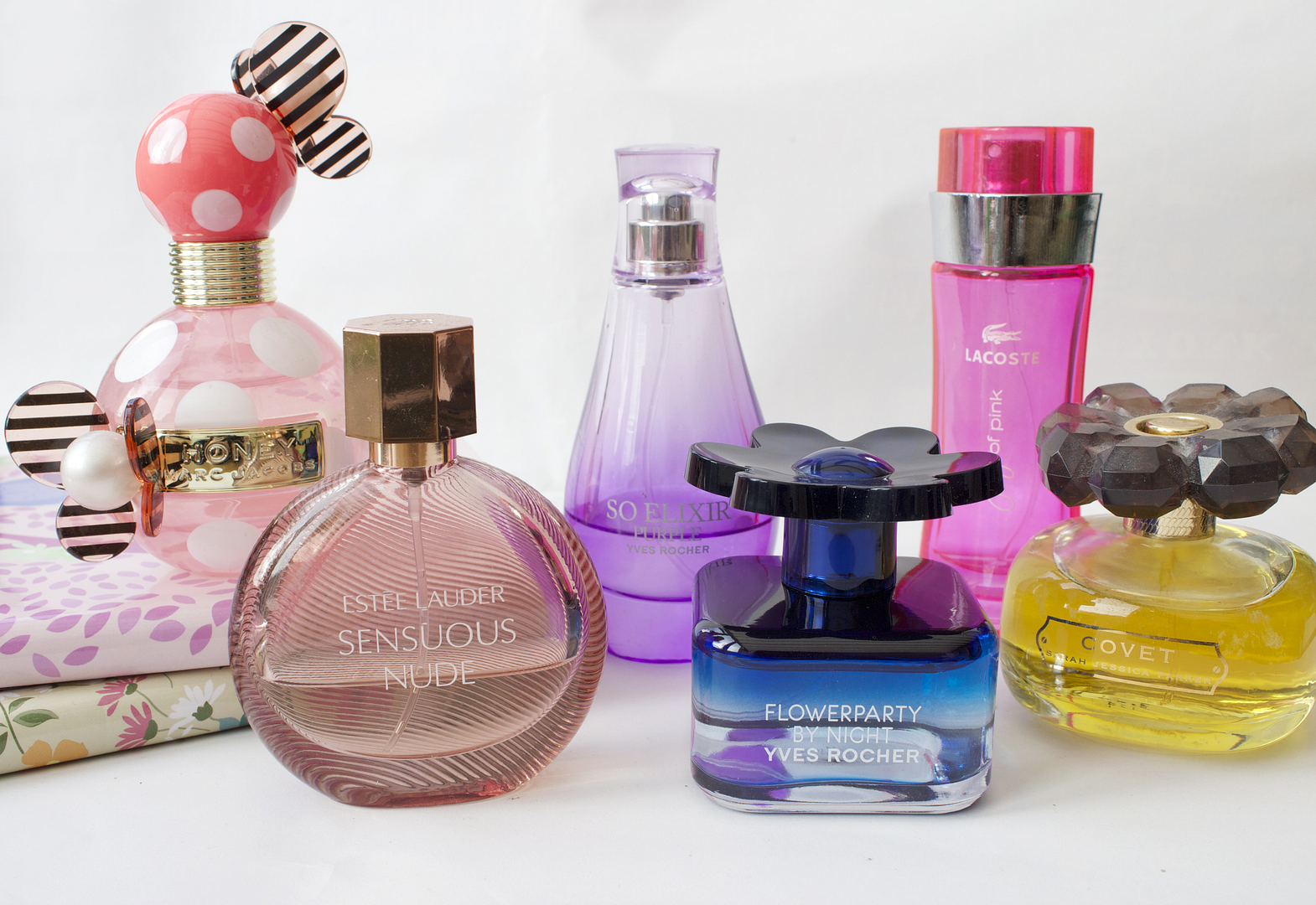 Since photographing these pictures I've actually bought a new perfume but I was too lazy to re-take thev pics. Anyway, today I thought I'd talk about my fragrance collection as it is getting rather big. I'm clearly not one of those people who stick with one fragrance every day and wait until it's run out until I buy a new one. Oh no.
I like to use a different fragrance every day otherwise I find that I get too used to it and can't really smell it anymore. I know fragrance is really meant for other people to smell on you but it's always nice to get a whiff every now and then!
My current favourite, and one that isn't pictured as it's new is the new DKNY MY NY fragrance, which I picked up in the January sales. It came in a box set with a body moisturiser and little purse for £25, a bit of a bargain I say!
Marc Jacobs is a brand of fragrance that I absolutely love, as you can probably tell. I recently got the Pink Honey edition for my birthday back in October and I absolutely love it, the bottle especially. I'm a sucker for a perfume bottle, which is why I really want the Daisy Dream one!
Most of these perfumes have been given to me for birthdays, Christmas' or from brands for consideration for the blog. One brand of perfume I really enjoy is the French brand, Yves Rocher. I was sent its Flowerparty By Night fragrance, which I featured
here
. The
L'Eau Moment de Bonheur
and the
So Elixir Purple
are two more favourites of mine from the brand too.
Sometimes fragrances really surprise me and brands I thought I probably wouldn't like or scents that I'm not keen on at first, really start to grow on me and they become firm favourites, such as the Estee Lauder Sensuous Nude, which contains a lot of notes of wood and musk, when I'm usually a more fruity or floral scent wearer.
When it comes to fragrances I think you need to really give them a chance. It's always a good idea to spray it on yourself in the shop or wherever you are and then carry on with your shopping. You can then let the fragrance sink in and really let yourself get used to it, if it still smells great after an hour or so then you've got a winner! As much as I do it, you shouldn't judge a perfume on its bottle, sometimes the best looking bottles don't smell too good!
I couldn't tell you what my favourite perfume is, it changes pretty much every day! The Marc Jacobs Daisy is a really special one though as it's one of the first really nice, expensive perfumes I got and this is pretty much where my love of perfume started.
What's your favourite perfume? Are there any you'd recommend I try? Let me know in the comments.
*This post contains some PR samples.