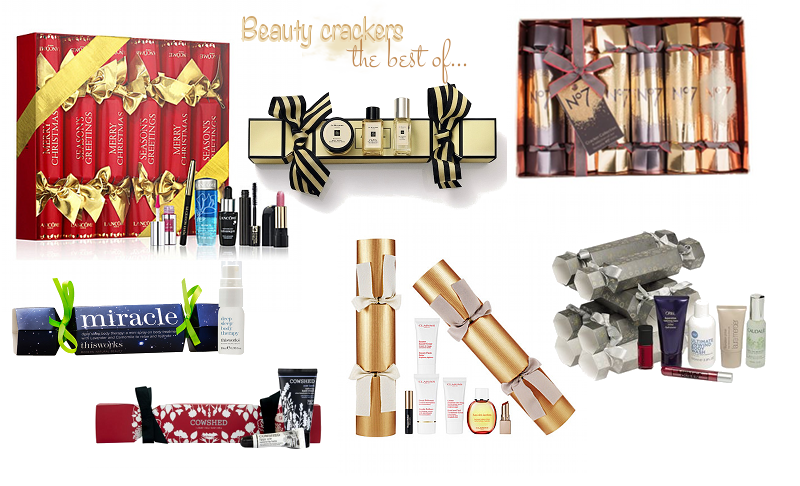 If you unfortunately couldn't get your hands on an advent calendar this year then you could pick up a beauty cracker. Beauty crackers are becoming much more popular and are a great little treat on the big day. They can be used as stocking fillers or can be given out at the dinner table as an alternative to traditional ones.
As you might expect beauty crackers leave you with a much better gift than a paper hat and a plastic moustache. These leave you with something you actually want and can use!
Lancome Beauty Christmas crackers - £54
This set of six is ideal for the beauty lovers round the table on Christmas day. Alternatively you could split them up and pop them in various loved ones stockings to wake up to on the big day. The treats inside are incredible: Hypnose Volume Mascara, Le Crayon Khol Eyeliner, Advanced Genifique Youth Activating Concentrate, Lip Lover, L'absolue lipstick and a Bi-Facil Eye Make Up Remover.
Jo Malone - £28
Probably the most luxurious and expensive beauty cracker on the market, this one comes with a mini cologne, a body & hand wash and a Body Creme all in an elegant cream cracker tied with ribbon. The Christmas dinner table would look seriously good with these on people's place mats or they can be used as a stocking filler gift.
No7 Christmas Cracker Collection - £14
If you can't get your hands on the No7 Christmas Calendar then this is a great alternative at a fraction of the price. Again, this comes in a box of six, so they're perfect for the dinner table or as stocking fillers. You could even hide them within the tree as an extra gift on Christmas day.
The crackers include a selection of mini products such as: No7 Stay Perfect Nail Polish in Temptress, No7 Stay Perfect Nail Polish in Beanie, No7 Stay Perfect Nail Polish in Damson Dream, No7 Protect & Perfect Day Cream, No7 Protect & Perfect Night Cream and the No7 Protect & Perfect Intense Eye Cream.
This Works Miracle Cracker - £10
The This Works Miracle Cracker is really great for those that have trouble sleeping. It contains a deep sleep body therapy and a mini spray-on body treatment with Lavender and Camomile to relax and hydrate.
Cowshed Cracking Hand & Lip Gift Set - £10
This is technically not a cracker, but a gift set in a cracker shaped box. However it makes a great little stocking filler and includes a luxurious hand cream and lip balm, perfect for the winter weather.
Clarins Christmas Crackers - £39
Another expensive cracker at £39 but again, a luxurious one containing Wonder Perfect Mascara, Gentle Refiner, Beauty Flash Balm, Hand and Nail Treatment Cream, Eau des Jardins and a Rouge Eclat lipstick. This would make a lovely Christmas gift/stocking filler if you didn't fancy splashing out on a whole bunch of crackers for the Christmas dinner table.
SpaceNK Best of SpaceNK Crackers - £48
Another expensive one but this time the £48 is for a box of six. Each cracker contains a hidden beauty treasure such as a Rococo Nail Polish, Oribe Supershine Hair Cream, Life NK Body Wash, Laura Mercier Primer, Caudalíe Beauty Elixir and a Lipstick Queen Gloss.
What beauty crackers will you be pulling this year? Let me know in the comments.