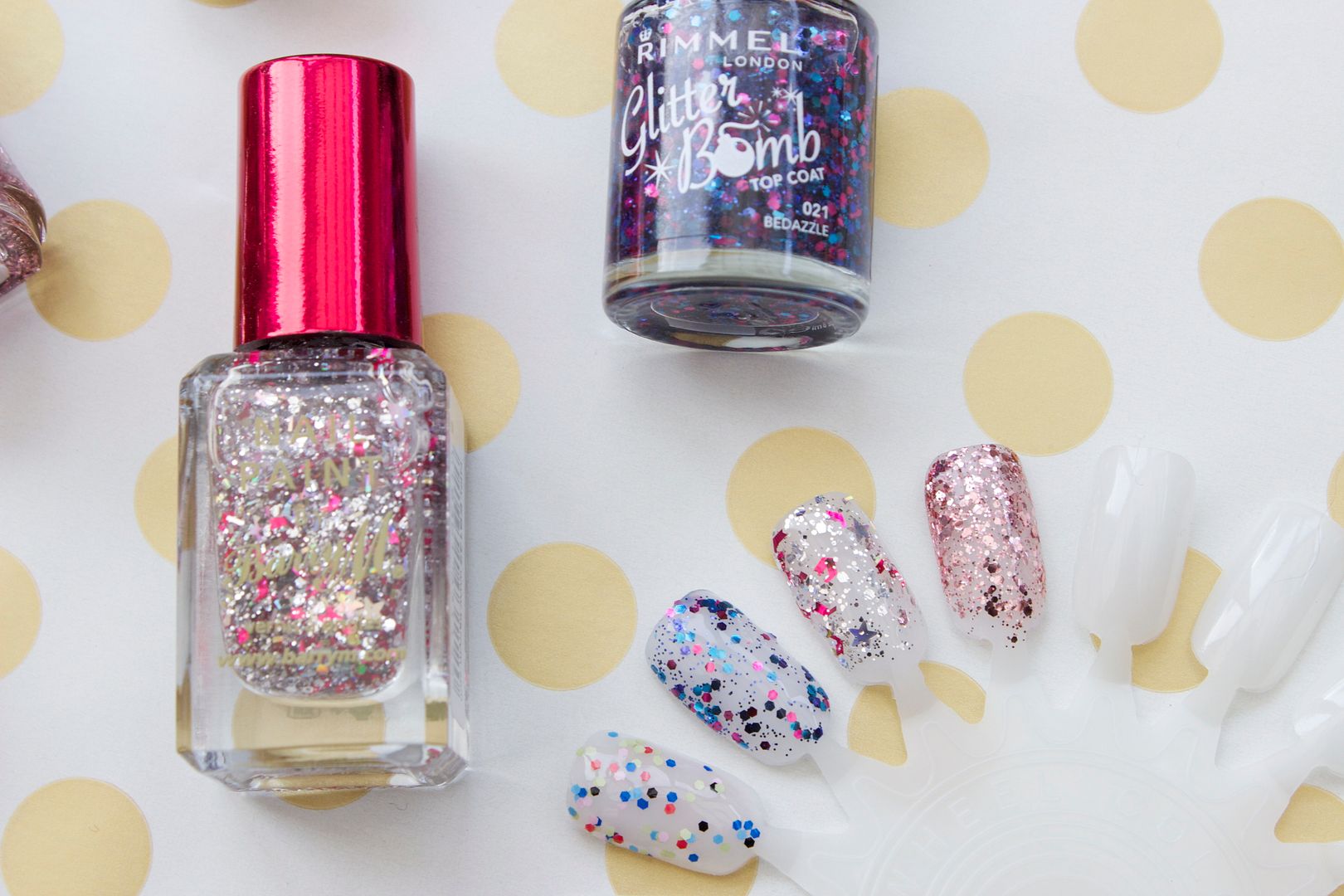 Rimmel London Glitter Bomb in Bedazzle - £3.99
Barry M Moonlight - £3.99
Rimmel Pop Art - £3.99
Essie A Cut Above - £7.99
Pop into any Boots or Superdrug store and the beauty counters are absolutely full of glitter/effect polishes. After seeing at least one from every brand I thought I would pick some up for a special post on festive nails.
Festive nails are a great way of working some glitter/bling into your outfit if you're not keen on a glittery eye or other make-up.
Rimmel Pop Art
Another great polish from Rimmel is this Pop Art one. Instead of glittery discs this contains small confetti particles in a variety of bright, primary colours. This would look fab on a white base, another polish that's perfect for creating a bit of an alternative festive look.
Rimmel London Glitter Bomb in Bedazzle
Rimmel is great for glitter top coats and I seriously love Glitter Bomb. It's a gorgeous mix of dark blue, purple and pink sequin-esque discs. It would look great on top of a white base but even better on a black base for a bit of an alternative festive look. Love this!
Barry M Moonlight
You can't really go wrong with a Barry M glitter polish and Moonlight is perfect for the festive season. Not only does it come with a festive red lid but the confetti particles inside are a gorgeous mix of red, gold and silver circles and stars. It's pretty much Christmas in a nail polish.
Essie A Cut Above
This Essie polish is one of the more expensive on the high street but it's just so gorgeous I couldn't pass it by. It contains beautiful confetti particles of a rose gold colour, which are just so pretty. Again this would look great on a white or black base and gives a bit more of a modern festive look.
What glitter polishes are you loving at the moment? Let me know in the comments. Also, I'd love to hear your thoughts about using nail wheels in these types of posts. Do you prefer these or do you prefer seeing polishes on real nails? Let me know.