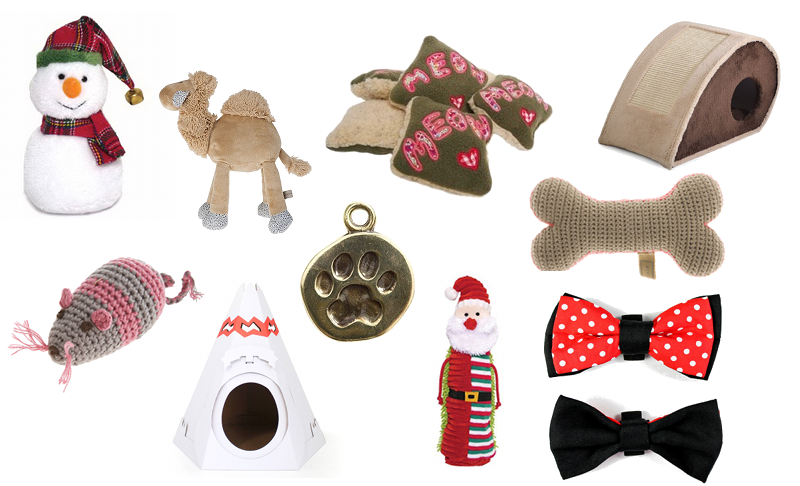 If, like me, you're an animal lover then you might be thinking of buying a little treat for your furry friend/s this Christmas. I think this year companies have gone all out for pet Christmas presents and one that has gone above and beyond is More Than, which has developed a great Christmas present finder app for your cat or dog.
The app is separated into gifts for cats or dogs. So, you choose your animal and choose whether you want a treat, a toy, a gadget or something fun priced under or over £20. The results are really brilliant, giving you a huge variety of products to choose from.
I've had lots of fun using the present finder app to put this Christmas gift guide together and there's definitely lots of goodies that my cat, Charlie, might find under the tree this year. Now, if only it was so easy to find gifts for the rest of your family!
Cat presents under £20
The first thing the present finder app threw up for me was the Mungo & Maud Knitted Mouse Cat Toy for £10.60. The mouse is beautifully knitted and is filled with cat nip so is a real treat for your feline.
I also came across the Jolly Moggy Sid Snowman, which is another cat nip filled toy for just £2.60. So cute!
Cats always love squeezing into small spaces, especially boxes, so this Cat Playhouse Tipi, which is £19.99, is perfect for a sleepy kitty.
Cat presents over £20
If you want to splash out a bit more on your cat this year then this Meow Cat Toy will go down really well. It's made from khaki fleece and Sherpa fleece. The letters and little heart are applied by hand in a pure cotton Amberley Liberty print. It comes in a cute gift box too.
Pretty much all cats need a scratching pole of some sorts. This Cat Scratching Activity Centre is great. Cats use scratching poles not only to sharpen their claws but also to strengthen their muscles and mark their territory so if you don't have a place where your cat cat do this, then the activity centre is for you! The centre is a cosy wedge shaped pod with plush lining for hiding and snoozing, and a sisal scratching mat on top.
Dog presents under £20
I've had dogs all my life and at Christmas they always get special dog stockings, which they can usually rip open themselves. If you want to get your pooch something a bit more special than a stocking, then read on.
There's nothing better than a good toy and the Mungo & Maug Crochet Bone Dog Toy is ideal. It's beautifully crocheted and squeaks when chewed.
This Rosewood Santa Claus Cruncher was too cute not to feature. It contains a crunchable water bottle. The crunch noise that this toy makes will stimulate your dog and the soft plush cover prevents the broken bits of plastic from making a mess.
If you want your hound to look handsome for the festivities, try one of these Reversible Pet Bow Ties, which are so, so cute! The bow tie simply attaches safely to the pet's own collar. Suitable for cats too!
Dog presents over £20
For over £20 you can treat your dog to Brass Paw Dog Tag, which has a plain back ready for engraving. This would look so pretty on any dog's collar.
The Camelia the Camel Dog Toy is perfect if your dog likes to have a cuddly friend in his bed. Perfect for them to chew on.
Have you tried the More Than present finder app? Let me know what results it gives you.
*This is a sponsored post.