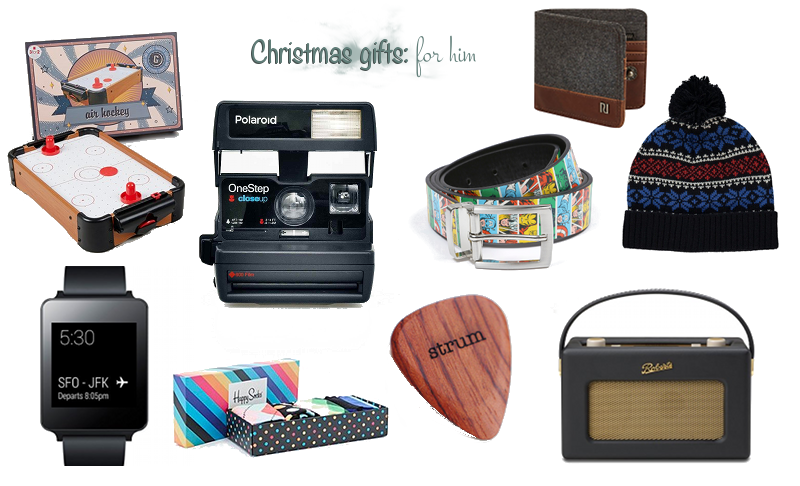 I usually struggle when it comes to buying gifts for the guys in my life. This year however, I know exactly what I'm getting Vince, mainly because he's told me but there's still my dad to think of…still no idea what to get him. If, like me, you get stuck buying for the guys in your life then hopefully this little gift guide will help.
For the tech lover
You can pretty much guarantee that at least one of the guys in your life is a fan of all things techy. Vince is a huge fan of tech and he actually helped with the gift guide as he has the LG G Watch, featured. It's a pretty cool piece of kit actually as it does pretty much all the same things as a phone, but it's neat and compacted onto your wrist. You do need an Android phone for it to work though!
Vince finds it particularly useful at work. He's a chef so can't keep getting his phone out - this way he can use it as he works, although don't tell his boss…
Another great piece of tech I came across is the Impossible Refurbished '80s-Style Polaroid 600 Camera and Film Set, which is great if you've got a photography lover as this combines one passion with another.
This is a great piece of kit that comes with a built-in flash, focus-free lens and slider to adjust exposure. The front end folds when not in use for lens and shutter protection.
For the young man
There's no doubt a little brother or cousin that you'll need to buy for. Matalan actually have some great, fun gifts including the Mini table air hockey, which I actually would kind of like for myself.
For the music lover
If there's a music lover in the family you could go retro with your present giving and go for the Roberts Radio. These are really popular at the moment and come in so many different colours.
Alternatively, if he's a guitar player you could opt for a personalised plectrum, which is something really super special!
For the stylish man
Every year I probably buy Vince or my dad/grandad some kind of sock set. You can't go wrong with them really, especially this pack of multicoloured socks, great fun!
You also can't go wrong with a wallet, belt or a hat. Something that all guys need, every year it seems!
*PS. This post doesn't contain any paid for links. These gift ideas are chosen only by me.