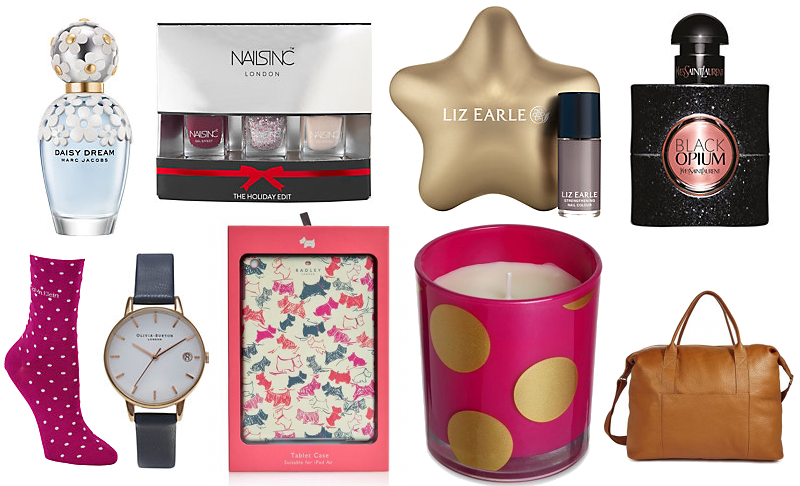 Being a girl myself means I usually find these gift guides pretty easy. I usually just feature bits and pieces I'd like to get myself but this year I've tried to find something for women of all ages.
Mums/sisters/friends are usually really easy to buy for as you know them inside out and know what they love/hate. Also, they'll usually tell you exactly what they want anyway but nans/aunties are a bit more tricky as they usually have pretty much everything! I'm still struggling with a gift for my nan so I'm browsing lots of gift guides for inspiration. Hopefully this one will inspire your own gift giving.
Some of these you can buy as main presents but some would work equally well as little extras or stocking fillers.
For the beauty lover
Whatever age you're buying for, you can't really go wrong with a beauty gift. Nail polishes are always a great idea and you can pick up some really cute gifts such as this Nails Inc Holiday Edit Gel Effect Collection one or for something extra special, Liz Earle does a great signature nail polish colour in a pretty star gift box.
For the scent lover
Another one you can't go wrong with is perfume. I would steer clear of perfume gift sets though because before Christmas they're super expensive and you'll find yourself in a shop in the New Year and you'll see them at more than half the price of what you paid less than a month ago and you'll want to hit yourself. The Marc Jacob's Daisy Dream is one of the stand out perfumes of the year, it's really light and fresh so you'll be pretty safe with this one. Black Opium is more of an aquired taste but the bottle is gorgeous!
If you don't think perfume is the right way to go you can always opt for a scented candle. I personally adore scented candles, much to the annoyance of my boyfriend, but most of them smell really good so you can't really go wrong!
For the traveller
For any ladies in your life that like to take regular trips or have to go away quite a lot for work, then a travel/weekend bag is probably your best bet. Something stylish and sturdy! Try this leather weekend bag from Next, lovely!
For the stylish woman
Depending on the gift receiver's tastes you can go for something simple like cosy, cute socks or you can opt for something a bit more luxurious such as a watch or designer iPad case.
So there you go, hopefully all of the ladies in your life are covered, present wise.
*PS. This post doesn't contain any paid for links. These gift ideas are chosen only by me.