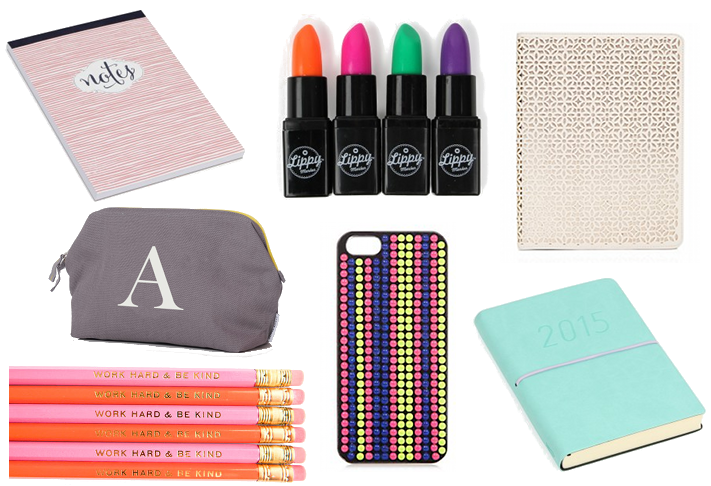 Wavy stripe dotted paper notepad - £4,
Noto mint green medium day to a page diary 2015 - £14
Lippy lipstick marker pens - £7, Work hard be kind pencils - £7.83
Alphabet Makeup bag/pencil case - £12.50, Cream and Gold Cut Out iPad case - £14.99
Neon Multicoloured Stud Stripe iPhone 5 Case - £5.99
When I was putting all of my gift guides together I thought I'd do one for bloggers, but I thought I'd keep it non-beauty related and instead feature gifts that might be helpful towards a blogger's job.
I know that notebooks, planners and diaries really come in handy for a blogger and every year I always ask for a diary of some sort to try and keep my life somewhat organised. Notebooks are great for jotting down blog post ideas wherever you are and with a diary you can go into a bit more detail. I have actually bought myself a wall planner/calendar for 2015's blog posts as I'm trying to be much more organised with my blogs in the New Year.
Lots of bloggers have phones and iPads or some kind of tablet that helps them out with their blogging so why not keep them looking lovely with pretty cases, always a good bet for a Christmas present.
You also can't go wrong with stationary, whether it's these popular pencils that every blogger loves at the moment, marker pens in the shape of lipsticks or a good old fashioned pen. I personally cannot get enough of stationary and I love nothing more than having a fresh notebook and a pen ready for writing out blog post plans with.
What will you be buying for the blogger/s in your life? Let me know in the comments.
*PS. This post doesn't contain any paid for links. These gift ideas are chosen only by me.