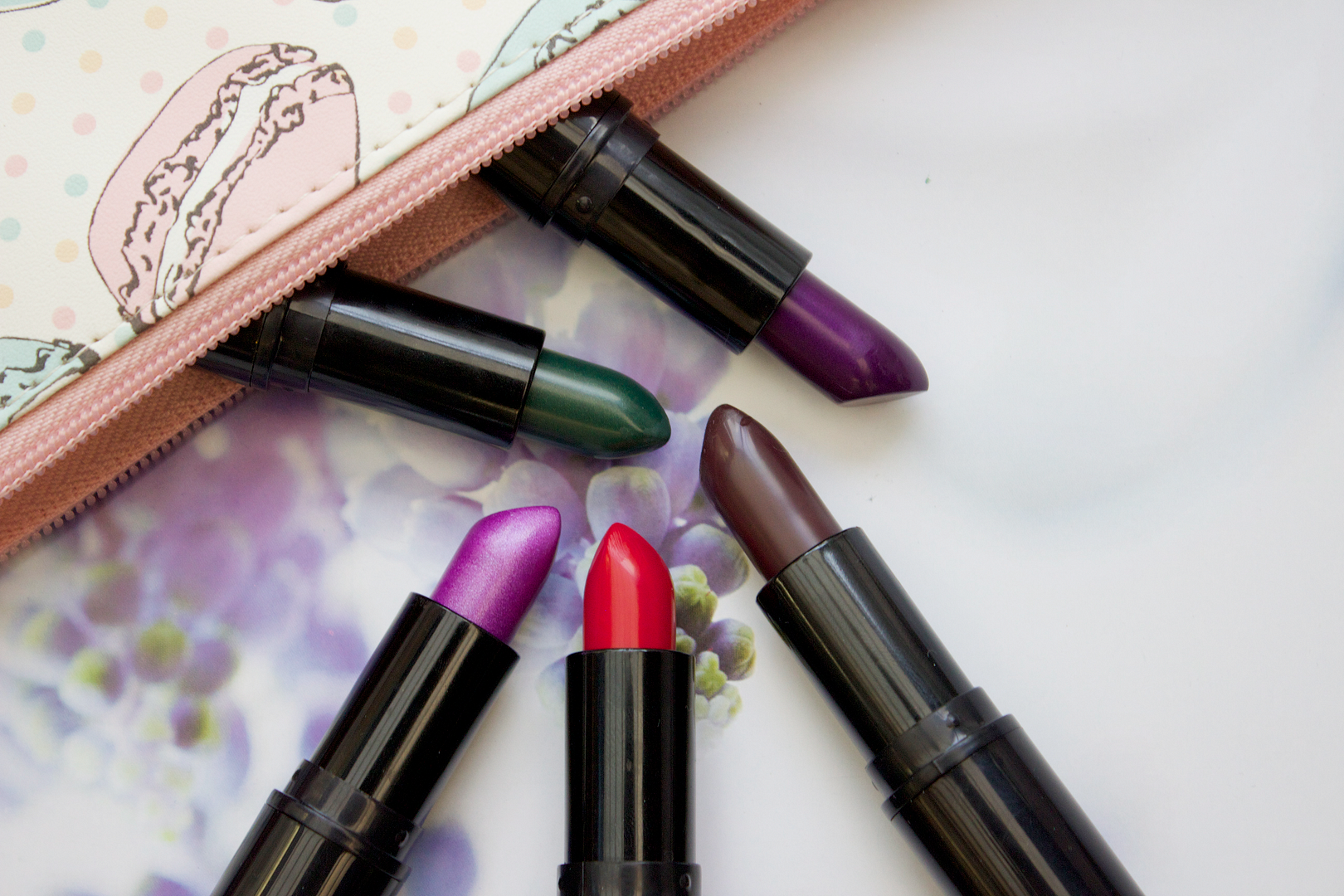 I have to be honest with you. I'm not keen on lipsticks. I
never
wear them. I don't know what colours suit me and I don't really know how to apply them properly. It took me a good few attempts to get the finished looks above after I kept smudging them all over the place and ended up looking like a clown quite a few times.
I was hoping to swatch all of the shades but when it came around to the red one I just couldn't get it right and threw a bit of a strop, so two swatches was the best I could do. Although, the green is swatched in a post coming this week so keep a look out for that one.
While I don't usually wear lipsticks I wanted to give these a try as Makeup Revolution had very kindly sent them to me. I also wanted to see if I could pull any of them off because they're quite out there colours for me. They're actually perfect for Halloween, which is why I've waited until this week to feature them. I think you can create some pretty great looks with the darker shades and even the red too.
The sparkly purple is actually really pretty and although I'm not 100% sure it really suits me, I do quite like it. I'm by no means a lipstick expert but I found each one a tiny bit thin on application. It took me a few times to get a fully covered lip. I've not read about this problem in any other reviews though so I am not sure if this is just me? It might be an idea to apply them with a lip brush as you can work the colour in a bit better.
For £1 these are real bargains and even if you do pick them up just to create a Halloween look it's totally worth it. I'm really pleased I gave these a chance and while not every colour is really for me, it's been really interesting to play with them and get myself used to applying and wearing something on my lips for a change.
Have you tried any of the shades from the new Atomic range?
*These items were gifted to me by the brand and I have given an honest review.