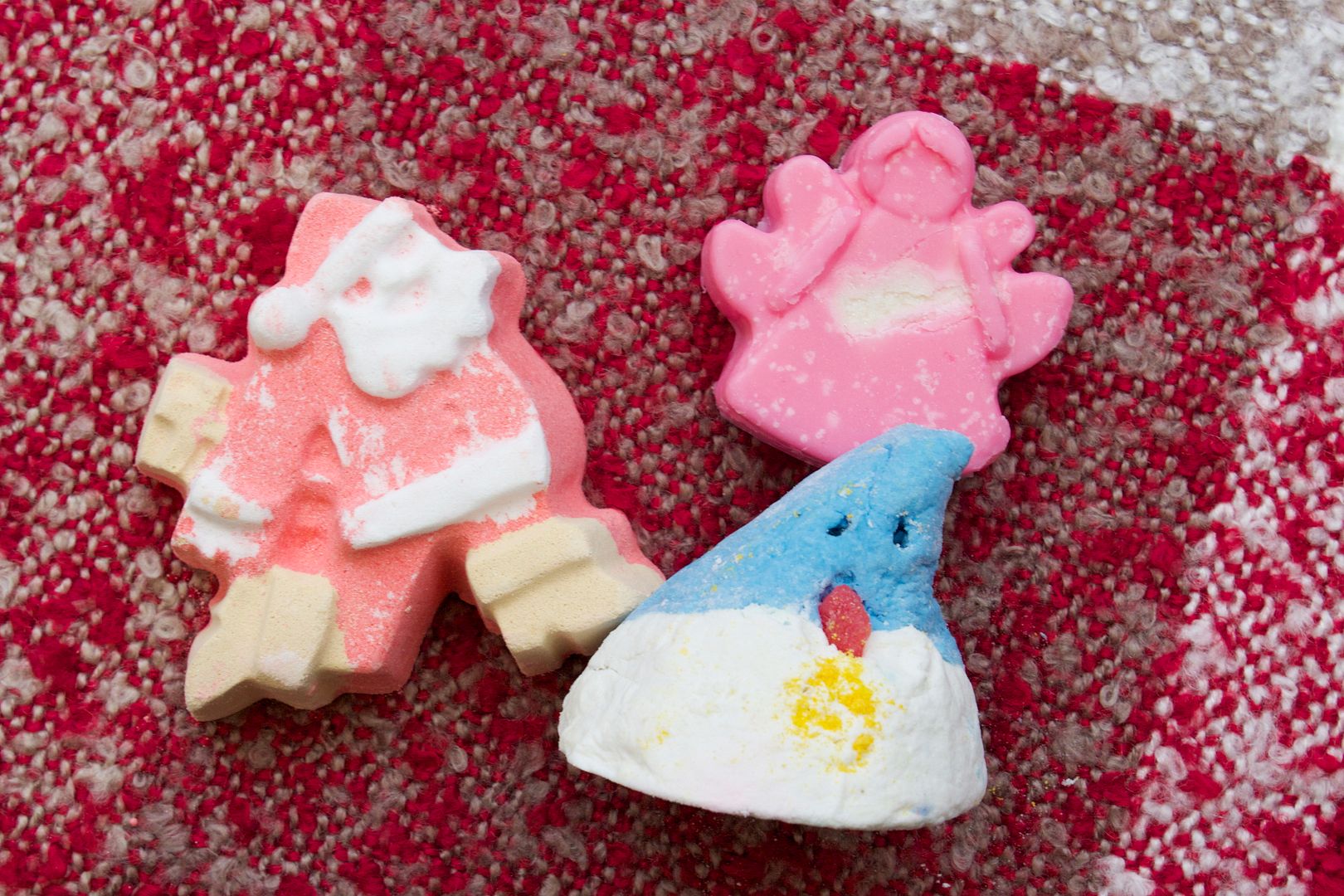 Tis the season to be jolly…sorry, I know it's a bit early, but try telling all the shops that. Christmas seems to get earlier and earlier this year and most shops now have Christmas stock in before they even get Halloween stock.
I've been seeing lots of bloggers featuring the new Lush Christmas range so I thought I would pop in while I was in Bristol and pick up a few bits myself. It was difficult to choose what to get to be honest but I picked up the Dashing Santa bath bomb as I thought it was quite fun. For £2.95 it's really worth your money and it's made to uplift your mood thanks to Christmas scents of satsuma. This is right up my street as I love nothing more than a really scented bath and citrus fragrances are some of my faves.
While I didn't pick up a Snow Fairy shower gel, I did pick up the heavenly scent in a different form - the Snow Fairy Sparkle, which is a lovely, shimmering massage bar, perfect for making your skin super soft thanks to its shea, murmuru and cupuaçu butters.
I also p-p-picked up a penguin…The Christmas Penguin bubble bar to be exact. This fella is so cute I couldn't resist. I think I tried this last year but I've picked it up again as the scent is so fresh and can create loads of bubbles, perfect!
This year I have become a huge fan of Lush. In the past I have popped in to stores and bought a few bits here and there but now I've really developed a love for its products and I'm really impressed by its huge range of Christmas stock. This is just the tip of iceberg really as there's so much more within the range. I'd love to try out the Northern Lights bath bomb and the Baked Alaska soap, which looks amazing.
I'll be giving everything featured here it's own dedicated post in the very near future and you can read my thoughts in much more depth. Have you tried anything from the new Christmas range yet? What did you think?